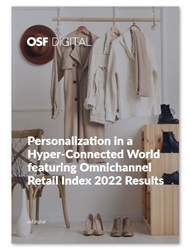 Personalization in a Hyper-Connected World: How to Win Customers and Boost Customer Loyalty
In today's omnichannel retail world, with less "personal" interaction, delivering a personalized experience can be challenging to replicate—but it is possible and necessary. Customers want and expect a personalized shopping experience that is meaningful and relevant. Businesses stand a better chance of getting their customer's attention, engaging them, and persuading them to buy, if the experience is contextually relevant to their wants and needs.
Are you delivering an omnichannel experience your customers deserve?
Through detailed and extensive mystery-shopping by OSF Digital Strategy consultants, the Omnichannel Retail Index 2022 examines how 115 retailers in 14 retail verticals (22 are online only) perform against 250+ criteria across web, mobile, and in-store. Constantly evolving benchmarking criteria are based on our deep digital and omnichannel experience and knowledge of current best practices across the entire customer journey. We evaluate the compiled data and assess the scores and rankings that serve as the basis for this personalization white paper.
In this exclusive white paper report on the state of digital commerce and omnichannel retail in 2022, you'll learn how to:
Differentiate yourself to get and keep your customer's attention in all the ecommerce noise
Use personalized content, offers, and merchandising techniques to close the sale every time
Delight your customer even more once their order is placed
Avoid the "creepy" factor using personalized data while also protecting your customer's privacy
Execute the latest in-store innovations, modern checkouts, improved store experiences, and digital tools
You dedicate time, resources, and budget toward delivering the best customer experience possible. Find out how you compare to your competition in our "Personalization in a Hyper-Connected World" white paper featuring the Omnichannel Retail Index 2022 results. Download today!