CIO Applications Recognizes the Company's Expertise and Achievements
Québec City, Canada – December 02, 2019 – OSF Digital announced it has been recognized by CIO Applications Magazine as one of the top twenty-five digital experience solution providers in 2019.
The announcement appears in the November 2019 print issue of the publication. CIO Applications is the most sought after magazine and leading media brand, with a unique focus on showcasing cutting-edge technology innovations. The publication guides businesses towards adopting the best technology that can assist them in providing convenient and seamless solutions for enhanced customer experience.
"We are very honored to be included in this list and pleased to be recognized for all of our hard work," says Gerry Szatvanyi, CEO of OSF Digital. "As one of only a few companies to achieve this distinction, being selected demonstrates our team's capabilities in delivering exceptional digital experiences and our commitment to advancing the industry as a whole."
To read the article, click here.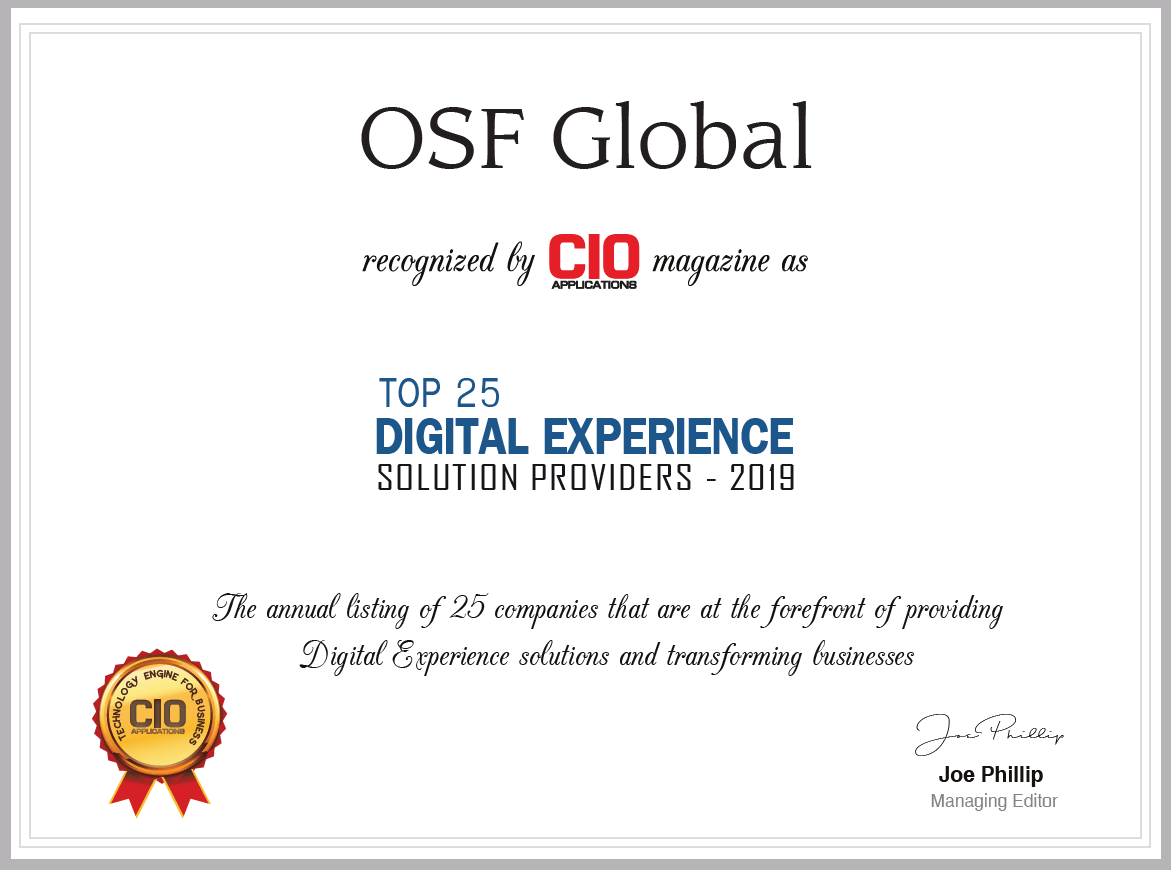 About OSF Digital
OSF Digital, winner of the 2018 Salesforce Lightning Bolt Trailblazer Award for Retail and Salesforce's 2016 Partner Innovation Award in Retail, is a leading global commerce solutions company providing technology, consulting, implementation and online shop management services to emerging and premier brands, and merchants. Our agile approach allows us to scale global growth more quickly and enable companies to enhance the customer experience. With over 120 ongoing projects and eight years of worldwide deployments, OSF Digital delivers connected commerce solutions across channels, devices and locales. OSF has the following financial partners: HSBC and BDC, and Salesforce Ventures is an investor.
All trademarks and trade names mentioned herein are the properties of their respective holders and hereby acknowledged.
Contact: OSF Digital
pr@osf.digital
1-(888)-548-4344