Guide your customers with a quiz.
Offer your customers an enhanced shopping experience. Sometimes it's hard for a customer to decide which product will best suit their needs. Help them out with a quiz that recommends the ideal product based on their answers.

Customize quizzes directly in Business Manager.
Choose between two available flows for quizzes, linear or decision-based, and customize the questions and answers that can be selected, either single or multiple choice.

Create quizzes in multiple languages.
Generate quizzes in more than one language directly in Business Manager. Set the quiz to be public or private, based on your preference. A customer must be authenticated to take the quiz if it's set to private.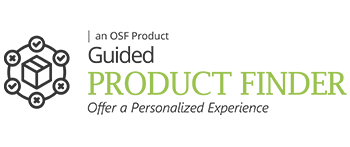 Give shoppers a simple, yet highly interactive way to find the right products online with Guided PRODUCT FINDER, OSF's Storefront Reference Architecture (SFRA) compatible cartridge for Salesforce Commerce Cloud.
Guided PRODUCT FINDER enhances the platform's functionality by enabling you to create quizzes and add them on the storefront to help your customers find the most suitable products for them.
REQUEST A LIVE DEMO NOW!
* All fields are required.